Small Intestinal Bacterial Overgrowth (SIBO) Breath Test
Clinic Test: €180, Home Test: €175 – FREE SHIPPING (ROI)
Small Intestinal Bacterial Overgrowth (SIBO) occurs when there is too much bacteria in the small intestine. The bacteria interfere with digestion and absorption and can result in digestive symptoms, malabsorption, and nutritient deficiencies.
The SIBO test can be done either in one of our clinic locations or the test can be perfomed at home using a home testing kit.



BUY ANY - 2 TESTS 5% OFF, 3 TESTS 10% OFF
Discount automatically applied at Checkout
⇒ SIBO is a condition that results in an overgrowth of bacteria in the small intestine
⇒ SIBO can lead to upper and/or lower gastrointestinal symptoms and impaired nutritional uptake
⇒ Studies suggest that a high prevalence of patients diagnosed with IBS have a bacterial overgrowth
⇒ Common causes of SIBO include impaired intestinal motility, following a gastric infection or episode of food poisoning, inflammatory bowel disease, connective tissue disorders, altered bile flow and enzyme production, coeliac disease, certain medications/frequent antibiotic use, gastric surgery.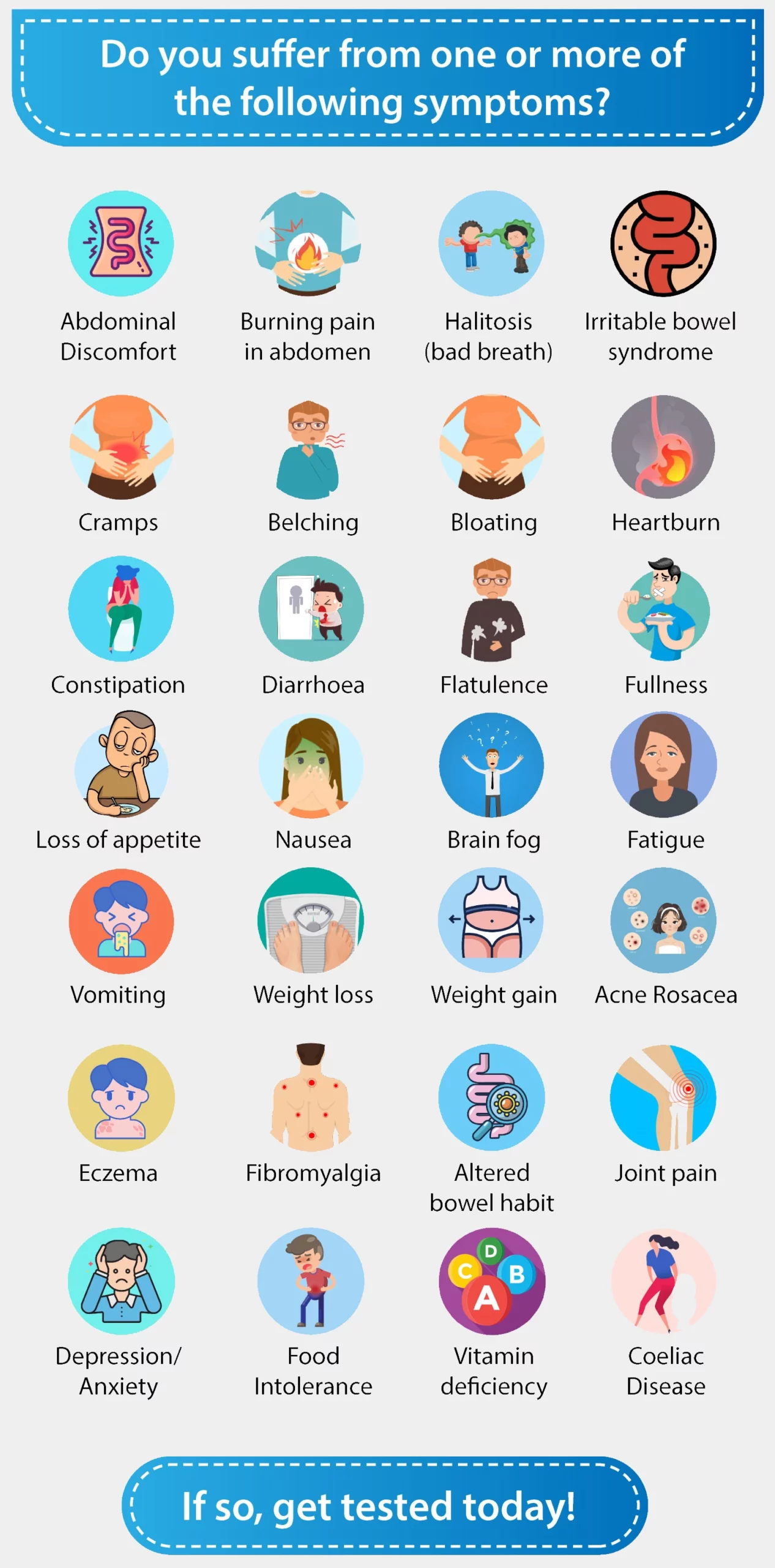 The Hydrogen and Methane breath test is used to detect Small Intestinal Bacterial Overgrowth (SIBO). This is a simple and non-invasive investigation.
The SIBO test can be done either in one of our clinic locations or the test can be perfomed at home using a home testing kit.
Samples are sent back to GastroLife for analysis.
Last (Covid) year was an extremely difficult one for me dealing with a number of severe Gastric problems and procedures. I realised early on that to heal I needed to take my own health into my own hands, and also realised the link between good gut health and general wellbeing. Having a positive test for SIBO allowed me to start the journey of repairing my gut microbe. I can highly recommend the many tests that Gastrolife offer, in an effort to live a well-balanced and healthy life. GastrolLife was the most important catalyst in taking responsibility for my own physical wellbeing.

Brent Pope Rugby Pundit

The service provided at Gastrolife is fantastic. I carried out a SIBO test there, and tested positive. After years of digestive issues, I am now finally on the mend after identifying the correct treatment. This has given me great relief. Melissa is a wealth of knowledge and is really at the cutting edge of science in diagnosing and treating digestive issues. The team in Gastrolife is always efficient, professional and very friendly, and I would highly recommend them. 

Damien Co. Clare

I decided to take the SIBO breath test with Gastrolife after suffering with IBS for more than 10 years. Melissa and all the staff were very knowledgeable and the test itself was very simple. I am glad I did, because the results were positive. My Gastroenterologist has since treated the SIBO and I am doing a lot better.

Conor Co. Kildare

I want to take this opportunity to say thank you to Gastrolife for the changes this test has made to my life. I first heard of this Test through my Dietitian. I had struggled with my symptom's for over three years before I took the SIBO test.. Following treatment, the positive change in how I felt were quite amazing. Thank you Melissa for the part you played in conducting the Gastrolife Tests without which I feel I could still be going around in circles looking for answers 

June Co. Galway

I attended the Gastrolife clinic twice for breath testing. I was really impressed by their all around efficiency from my appointment, consultation and follow up. All instructions were clearly explained to me on line and by phone if I needed. The website is user friendly and I received my report and receipt promptly on time. 

Grace Co. Dublin

The test is well organised and managed. Everything is clearly explained and Melissa puts you at ease throughout the process. There is a lot of time available to do the test so you can choose the most convenient.

Veronica Co. Dublin

My experience in Gastrolife clinic couldn't have been better. Without needing a doctor's referral, Gastrolife's tests helped me to identify the root cause of many years of gut issues and discomfort. The staff are very professional and knowledgeable. Since then I have been on a path to recovery.

Alan Co. Kildare
WHAT IS SMALL INTESTINAL BACTERIAL OVERGROWTH?
Small Intestinal Bacterial Overgrowth (SIBO) occurs when there is a higher-than-normal number of bacteria in the small intestine causing gastrointestinal symptoms.
Most of our gut bacteria reside in the large intestine and performs a variety of important roles in the body. A much lower number of bacteria are located in the small intestine. If there is an abnormally high number of bacteria in the small intestine, it can interfere with digestion and absorption.
When a bacterial overgrowth develops in the small intestine, the bacteria can break down food (most commonly carbohydrates) in this part of your digestive tract and interfere with the normal process of digestion. Gases such as hydrogen and methane are produced as well as other products. This may lead to gastrointestinal symptoms, impaired nutritional uptake, alteration in intestinal permeability, and/or immune activation.
WHAT ARE THE COMMON SYMPTOMS?
Some people may experience one symptom, while others may suffer from a combination of symptoms.
The most common symptoms reported include:
Bloating
Nausea
Diarrhoea and/or constipation, altered bowel habit
Abdominal distension
Fatigue (SIBO can utilise Vitamin B12)
Flatulence and/or belching
Food intolerances
Other symptoms reported include reflux, joint pain, acne rosacea, brain fog, intestinal cramps, intestinal gurgling, weight loss/weight gain, fullness, loss of appetite, anxiety.
How can breath samples tell me what is happening in my intestine?
If there is too much bacteria present in the small intestine, it will interfere with the normal digestion and absorption process. The overgrowth of bacteria ferment food, more often carbohydrates, in the small intestine.
As a result of this metabolic breakdown, gases such as hydrogen and methane are produced. These gases are only produced by bacteria and not by any other part of the body. These gases have a small size and can pass easily through the wall of the intestine and into your blood circulation. When your blood travels around your body to your lungs, gas exchange takes place, and these gases are detected from exhaled breath samples.
Test Duration: 2-3 hours
Testing Age: 16 years and above
Referral: No referral required
Results: Approx. 3-4 working days
Initial Clinic Test Fee: €180
Repeat Clinic Test Fee: €160 (within 12 months)
Home Test Kit Fee: €175
Home Test Instruction Video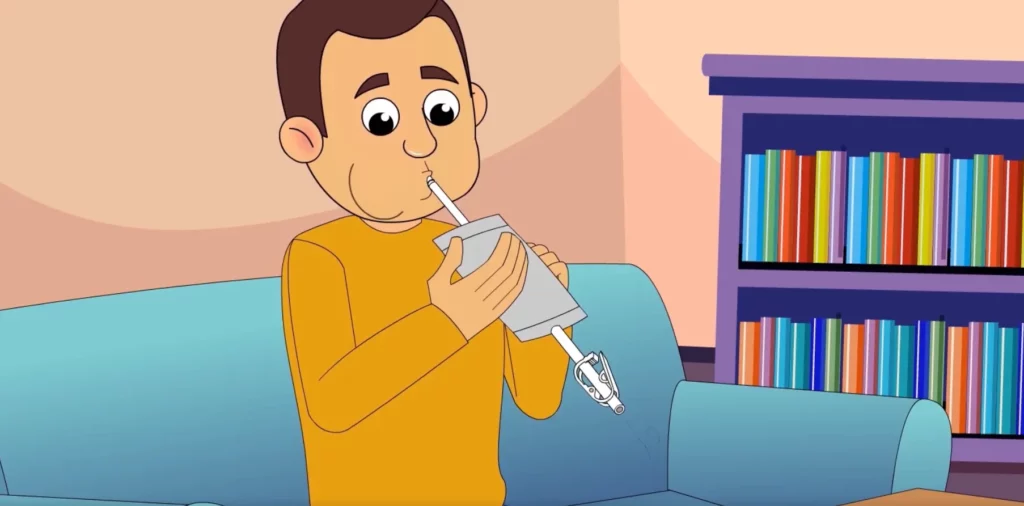 Please note that if you are on a long-term antibiotic prescription, please contact us for testing advice.
In the event of a positive SIBO Breath Test, it is recommended that you consult with your G.P/Consultant for appropriate treatment.
PRE-PROCEDURE INSTRUCTIONS
A pre-procedure instruction sheet can be viewed by clicking the link below. This should be viewed and adhered to upon booking your appointment to ensure accurate results.
✔ 9 x pre-labelled breath collection bags
✔ 18 x blue air stopper caps
✔ 1 x testing substrate
✔ 1 x plastic clamp
✔ 2 x mouth piece
✔ 1 x pre-labelled return envelope
✔ 1 x Test Instruction Book
✔ 1 x Consent Form
Free Shipping within the Republic of Ireland
We can ship this product to Republic of Ireland, Northern Ireland, United Kingdom, Europe, Worldwide
Shipping Outside Republic of Ireland
For Shipping Rates outside of ROI please click the button below.
A SIBO sample report can be viewed by clicking the link below.
Download a timing planner for your Hydrogen & Methane Breath test.